IP68 TeeTubes
IP68 TeeTubes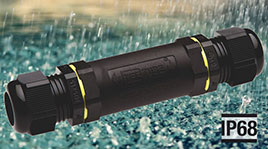 The TeeTube family groups connecting solutions, having high level protection, of the linear type with metal inserts (up to IP68 at 2bar/5bar). The Mini TeeTube family is able to provide, thanks to its reduced dimensions, a protected installation in very small spaces maintaining the same characteristics of the larger versions.
FEATURES
Tough, robust construction with large cable range acceptance.
Available with 2 body styles.
Straight through, T splitter and Y splitter versions available.
Dual terminal versions available for easy fitting and looping of conductors (2+2 and 3+3 poles).
Temperature rating of -40° to +125°.
Microsized connectors including chassis mount options now available in 2-4 pole.
SPECIFICATIONS
Click on the product codes below to see individual product details:
Standard Series, 32A max current with 4mm2 max conductor size
Product Code
IP Rating
Poles
Colour
Material
Cable Entries
Insert Type
W
(mm)
Ø
(mm)
L
(mm)
Min-Max Cable
Diameter (mm)
TTK20BK-SD
68 to 5 Bar
3
Black
Nylon 66
2
Barrier
N/A
26.5
115
5-13
TTK20GY-SD
Grey
TTK20CR-BK
Clear
TTK25BK-SD
Black
32
130
8-17
TTK25GY-SD
Grey
TH390 Miniature Series, 32A max current with 4mm2 max conductor size
Product Code
IP Rating
Connector Type
Poles
Colour
Material
Cable Entries
Insert Type
W
(mm)
Ø
(mm)
L
(mm)
Min-Max Cable
Diameter (mm)
THB.390.A1B
68
In-line
2
Black
Nylon 66
2
Barrier
N/A
30
82
7-13.5
THB.390.A1A
3
THB.390.C1B
Cable Splitter
2
3
92
30
73
THB.390.C1A
3
TH391 Micro Teetube, 4mm2 max conductor size, 7-12mm Min-Max Cable Diameter
Product Code
IP Rating
Connector Type
Poles
Colour
Material
Cable Entries
Insert Type
Ø
(mm)
L
(mm)
Max Current
(A)
THB.391.A2A
68 to 1 Bar
Iniline
2
Black
Nylon 66
2
Barrier
23
68
32
THB.391.A3A
68 to 1 Bar
3
Barrier
23
68
THB.391.A4A
68 to 1 Bar
4
Barrier
23
68
THB.391.L2A
68
Through Chassis
2
Black/Green
(seals)
PA66/TPE
Barrier
17.5
THB.391.L3A
68
3
Barrier
THB.391.L4A
68
4
Barrier
THB.391.R4A
68
Iniline XDry Anti Condensation

4
Barrier
THB.391.T4A
68
Chassis Mount XDry Anti Condensation
4
Barrier
TH399 Long Series, Y Style Cable Splitter/Connector, 32A max current with 4mm2 max conductor size
* Was 5mm minimum, but now use accessory 6000087LF for cable Ø less than 7mm
** Was 5mm minimum, but now use accessory 6000087LF for cable Ø less than 8mm
TH399 Short Series, Miniature Y Style Cable Splitter/Connector, 32A max current with 2.5mm2 max conductor size
Product Code
IP Rating
Poles
Colour
Material
Cable Entries
Insert Type
W
(mm)
Ø
(mm)
L
(mm)
Min-Max Cable
Diameter (mm)
THB.399.E3A
68
3
Black
Nylon 66
3
Barrier
63
33
125
7-13.5
THB.402 Series, T Style Cable Splitter/Connector long tube, 32A max current with 4mm2 max conductor size