TeeBox (Up to IP68)
TeeBox (Up to IP68)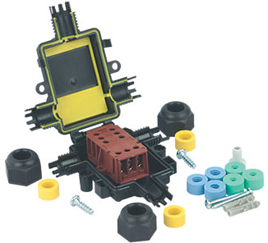 The TeeBox has also been used to protect connections and LED drivers in one of the World's longest shopping centres and some of the most glamorous private yachts in existence.
FEATURES
Comprehensive range of connection options.
Protection rating up to IP68 depending on product.
Unique 3 pole T connector TH029 available for use in TH209 & TH211 range, no cable forming required.
TH211 available as full KIT version complete with TH029 fitted.
Temperature range of -20°C to +125°C.
Chassis mount and in-line Micro series TeePlugs with 5 poles now available.
SPECIFICATIONS
Click on the product codes below to see individual product details:
TH200 Series - Black Nylon 66
Product Code
IP Rating
Poles
Cable Entries
Insert Type
H
(mm)
W
(mm)
L
(mm)
Min-Max Cable
Diameter (mm)
Max Conductor
Size (mm2)
Max
Current (A)
Max
Current (V)
Description
THK.200.C1E
67
3
3
Barrier
20
41
82
4-9.5
2.5
25
450
T splitter (three cables), includes terminal block and fixing kit
THK.200.3T
67
3
3
Barrier
20
41
82
4-9.5
4.0
32
450
T splitter with unique TH029 T connector fitted
TH209 Series - Black Nylon 66
Product Code
IP Rating
Poles
Cable Entries
Insert Type
H
(mm)
W
(mm)
L
(mm)
Min-Max Cable
Diameter (mm)
Max Conductor
Size (mm2)
Max
Current (A)
Max
Current (V)
Description
THA.209.A1B
54
4
28
65
108
7-14
Junction box suitable for use directly with terminal block TH032 or with TH026/TH027 with support plate 6000175CC
THA.209.A1A
68
4
28
65
108
7-14
THA.209.A1A8PKIT
68
8
4
Barrier
28
65
108
7-14
4
32
450
Junction box supplied complete with 8 pole (1x3 and 1x5 pole) connector mounted on support plate
THA.209.D1B
68
3
28
65
108
7-14
Junction box suitable for use directly with terminal block TH032 or with TH026/TH027 with support plate 6000175CC
THA.209.D1A
68
3
28
65
108
7-14
TH211 Series - Black Nylon 66

Product Code
IP Rating
Poles
Cable Entries
Insert Type
H
(mm)
W
(mm)
L
(mm)
Min-Max Cable
Diameter (mm)
Max Conductor
Size (mm2)
Max
Current (A)
Max
Current (V)
Description
THA.211.A1B
54
3
28
65
108
7-14
Junction box suitable for use directly with terminal block TH029
or with TH026/TH027 with support plate 6000194CC
THA.211.A1A
68
3
28
65
108
7-14
THA.211.A1A8PKIT
68
8
3
Barrier
28
65
108
7-14
4
32
450
Junction box supplied complete with 3 pole TH029 connector
for direct mounting inside unit
THA.211.D1B
54
3
3
28
65
108
7-13.5
Junction box suitable for use directly with terminal block TH029
or with TH026/TH027 with support plate 6000194CC
THA.211.D1A
68
3
28
65
108
7-13.5
TH622/TH623 SERIES - Black Nylon 66 Power Distribution Units

Product Code
IP Rating
Poles
Cable Entries
H
(mm)
W
(mm)
L
(mm)
Min-Max Cable
Diameter (mm)
Max Conductor
Size (mm2)
Max
Current (A)
Max
Current (V)
Description
THH.622.L3A
68
3
4
28
65
200
7-12
4.0
10
400
3 pole power distribution box, 1x input, 3x output (Four cables).
10A max input. Supplied complete with pre-cabled box and 4 connectors
THH.622.C3A
54
3
4
28
65
200
7-12
4.0
10
400
THH.623.L3A
68
3
4
28
65
200
7-12
4.0
17.5
400
3 pole power distribution box, 1x input, 3x output (Four cables).
17.5A max input. Supplied complete with pre-cabled box and 4 connectors
TH392 SERIES - Black and Green PA66 GF UL94V0/UL94 V2, Caps/TPE Seals

Product Code
IP Rating
Poles
Cable Entries
Insert Type
H
(mm)
W
(mm)
L
(mm)
Min-Max Cable
Diameter (mm)
Max Conductor
Size (mm2)
Max
Current (A)
Max
Current (V)
Description
THB.392.A4A
68
4
4
Screw
28
54
80
8-12
4
17.5
450
Micro series power distributor, 1 input 3 output, sealed interconnections, IP68
THB.392.A4B
68
4
3
Screw
28
54
80
8-12
4
17.5
450
Micro series power distributor, 1 input 2 output, sealed interconnections, IP68
THB.392.R4A
68
4
4
Screw
28
54
80
8-12
4
17.5
450
Micro XDry series anti condensation power distributor, 1 input 3 output, sealed interconnections, IP68
THB.392.R4B
68
4
3
Screw
28
54
80
8-12
4
17.5
450
Micro XDry series anti condensation power distributor, 1 input 2 output, sealed interconnections, IP68