Series 33 - IP65 Hand Held ABS Instrument Cases
IP65 Hand Held ABS Instrument Cases (Series 33)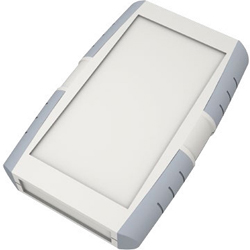 Ergonomically designed hand held ABS enclosure that is snap-fit and screw assembly. The main enclosure is manufactured from robust 3mm thick ABS whilst the separately ordered colour coded corners are manufactured in Polypropylene coated with a TPE non-slip material for more positive handling. An optional EPDM gasket to improve sealing to IP65 is also available and specific models in the range also have an integrated battery compartment which has a screw fixing cover. These products are particularly suitable for housing electronics for remote control or instrumentation applications that require a tough and resilient product.
FEATURES
Ergonomically designed for more comfortable use.
Manufactured in tough 3mm thick ABS material.
Separate battery compartment and cover on specific models in the range.
Snap fit and screw assembly.
Gasket option to increase IP rating to IP65.
Colour coded non-slip corners available separately.
Temperature resistant to +85°C.
SPECIFICATIONS
Click on the product codes below to see individual product details:
Product Code
Description
Integrated Battery Compartment with Separate Cover
IP Rating
Base Colour
Lid Colour
Enclosure Material
H
(mm)
W
(mm)
D
(mm)
Temp Rating
33133301
Robust hand held ABS Enclosure. Supplied as a basic shell the product can be colour coded for specific applications by fitment of the separately ordered colour coded corners.
No
IP60 (Increased to IP65 by fitting EPDM gasket seal 33070045
Black RAL 9004
Black RAL 9004
ABS
145
95
25
0°C to +85°C
33133302
Yes
145
95
35
0°C to +85°C
33133303
No
185
110
25
0°C to +85°C
33133304
Yes
185
110
35
0°C to +85°C
33133305
No
200
120
25
0°C to +85°C
33133306
Yes
200
120
35
0°C to +85°C
33133311
No
Black RAL 9004
Black RAL 9004
ABS
145
95
25
0°C to +85°C
33133312
Yes
145
95
35
0°C to +85°C
33133313
No
185
110
25
0°C to +85°C
33133314
Yes
185
110
35
0°C to +85°C
33133315
No
200
120
25
0°C to +85°C
33133316
Yes
200
120
35
0°C to +85°C
ACCESSORIES
Click on the product codes below to see individual product details:
Product Code
Description
Base Colour
Enclosure Material
Temp Rating
Comments
33070045
IP Sealing Gasket
EPDM

0°C to +85°C

Suitable for fitting to all Series 33
hand held Enclosures which will
increase IP rating to IP65.
33133225
Blue corner section
Blue RAL 5007
Polypropylene covered with
TPE non-slip material
Supplied in packs of 4 pcs.
33133325
Green corner section
Green RAL 6026
33133425
Red corner section
Red RAL 3020
33133525
Orange corner section
Orange RAL 2003
33133625
Black corner section
Black RAL 9004
33133725
Yellow corner section
Yellow RAL 1021
33133825
Grey corner section
Grey RAL 6026
33133235
Blue corner section
Blue RAL 5007
33133335
Green corner section
Green RAL 6026
33133435
Red corner section
Red RAL 3020
33133535
Orange corner section
Orange RAL 2003
33133635
Black corner section
Black RAL 9004
33133735
Yellow corner section
Yellow RAL 1021
33133835
Grey corner section
Grey RAL 6026