Product Categories
Call us for Support
01933 234400
Series 110 Aluminium/Steel Desktop Instrument Cases
Aluminium/Steel Desktop Instrument Cases (Series 110)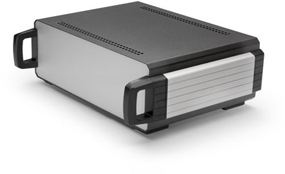 Instrument cases for command test and control applications. Side profiles include rails for mounting CB's and other components whilst the ventilation slots on the rear of lid and the base allow for cooling of enclosed electronic components. All products are supplied with non-slip feet.
FEATURES
Robust instrument cases for a variety of industrial and control applications.
Solid steel and aluminium construction.
Side profiles include rails for PCB or other component mounting.
Ventilation slots in top and bottom covers.
Non-slip feet or tilting feet fitted as standard.
SPECIFICATIONS
Click on the product codes below to see individual product details:
Product Code
Description
Lid Colour
Enclosure Material
H
(mm)
W
(mm)
D
(mm)
Temp Rating
31110001
Ideal for use in aboratory, industrial or on-site these rugged Enclosures will provide the required protection for the enclosed electronics. All products are supplied complete with vented panels and non-slip feet.
Lid and base graphite Grey Aluminium extrusions and front and rear panels Silver
Aluminium extrusion profiles Steel lid and base
70
150
140
0°C to +85°C
31110002
70
200
200
0°C to +85°C
31110003
80
225
170
0°C to +85°C
31110004
90
250
200
0°C to +85°C
31110005
Ideal for use in laboratory, industrial or on-site these rugged Enclosures will provide the required protection for the enclosed electronics. All products are supplied complete with vented panels and non-slip feet and this model also has front feet that can be opened out to give a 6° angle from the horizontal to aid vision and use of the equipment.
100
300
220
0°C to +85°C
31110006
120
350
260
0°C to +85°C
31110007
130
400
300
0°C to +85°C