Product Categories
Call us for Support
01933 234400
Kwik Fix Cable Glands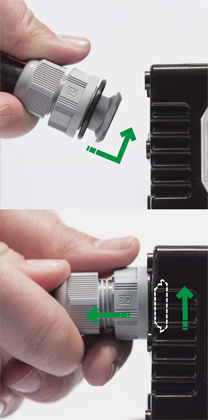 Designed for use in applications where access to the interior of a bulkhead or enclosure is restricted, the patented Kwik Fix can be used to form a quick, IP68 connection. The Kwik Fix can reduce installation time which will increase profitability and is especially suitable for use with Switch Cabinets and cooling and heating systems.
Traditional dome topped cable glands are ideal for creating a simple and secure entry point for bulkheads and enclosures. Secured from the inside using a locking nut they form an IP68 seal which a cable can be simply passed through. However, when access to the inside is restricted installation time can be greatly increased and it may even be necessary to adopt specialist tooling or, if the panel is large, 2 people would be required to assemble the glands into position.
The Kwik Fix cable gland is installed by placing the mounting foot of the gland through the entry hole. The mounting foot is designed with a lip that can be pulled tight against the inner wall; an external hexagonal locking nut is then turned anti-clockwise to hold the gland in place and form an IP68 seal. Once locked in place you can install the corresponding cable in the traditional manner; tightening the top dome nut in a clockwise direction.
This means that the gland can be easily mounted and dismounted from one side making installation and maintenance far simpler. The gland can be fitted onto entries where the wall thickness is between 1mm and 4mm and the waterproof solutions can operate safely in temperatures between -20°C and 100°C.


SPECIFICATIONS
Click on the colours below to see individual product details:
VIDEO DEMO