Direct Online Starters (DOL) - DMS1-18D/415V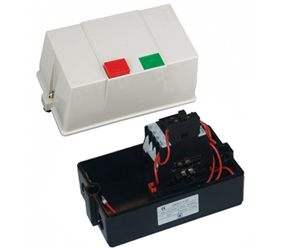 DESCRIPTION
DOL (Direct on line) AC motor starter. 240V AC Coil, load 10/15kW at 400/440V, requires DETH overload relay.

FEATURES
CE Approved
Supplied with wall/panel facility Mounting screw
Suitable for most applications including woodworking
Dust collecting and metal recycling machinery
Simple to use
IP65 water ingress protected
Complete with threaded cable gland entry
Wired ready for use with thermal overload relay.
SPECIFICATION
| | |
| --- | --- |
| Coil Voltage VAC | 415 |
| Length (mm) | 181 |
| Width (mm) | 101 |
| Height (mm) | 130 |
Call us for Support
01933 234400