Emech Terminals/Accessories - DIDCI-4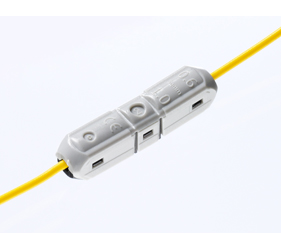 FEATURES
Safe - once shut, JOW is water-resistant and dustproof to IP33. And there is no risk of electric shock.
Fast ? no stripping down cable sheath, no screwing down wires and no taping up afterwards ? JOW could reduce your installation times by up to 50%.
Profitable ? turn saved time into more completed projects ? and more satisfied customers.
Suitable for solid or stranded conductors.
SPECIFICATION
| | |
| --- | --- |
| IP Rating | IP33 |
| Height (mm) | 7.7 |
| Width (mm) | 7.7 |
| Max Conductor Size (Sq mm) | 3 |
| Max Current (A) | 20 |
| Max Voltage (V) | 600 |
DISTRIBUTORS